Opera GX adds dynamic Razer Chroma™ RGB Lighting Effects to accompany your browsing
Howdy!
We've got some some big news for all you Razer Chroma fans! Opera GX is introducing Razer Chroma RGB Lighting Effects that allow your Chroma-enabled devices to dynamically respond to your browsing. Turn it on and whenever you start your browser, open a new tab, or finish a file download (to name a few examples), your Razer gear will respond with custom Chroma RGB Lighting Effects courtesy of Opera GX's design team. Dare we say it: browsing has never looked better! Just see for yourself:
Whether you're hardcore with a proper battlestation or a casual with a few Chroma peripherals, we're sure you'll appreciate getting the most out of your gear while browsing with GX. Let's face it: you need to be focused when gaming, and GX is the perfect place to get immersed, make your system shine, and have fun.
Launched in 2019 during E3 in Los Angeles, Opera GX is the world's first browser designed for gamers. Opera GX initially launched with Razer Chroma RGB integration that allowed Razer Gear to match the colors of the browser. We are now stepping it up with dynamic Chroma Lighting Effects.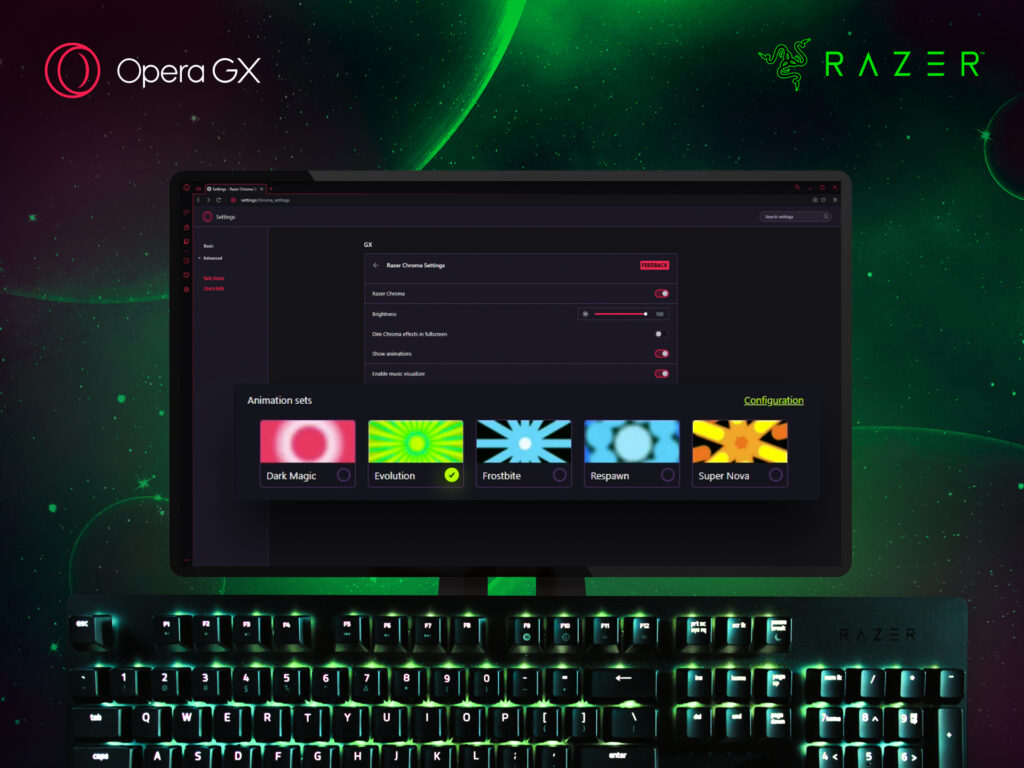 Let Chroma Lighting Effects react to your browsing
A small reminder of all the stuff we've done so far: Opera GX is all about bringing the immersive gaming experience to browsing. It's the first browser with adaptive background music and sound effects. GX is now the first browser with dynamic Chroma RGB Lighting Effects that light up your Razer gear with custom animations whenever you start the browser, open new tabs, activate the RAM, CPU and network limiters or finish a file download.
Pick a GIF you like and display it on your keyboard
We've also made it easy for you to pick the effects you like. You can select one of the preset animation themes or go deeper and individually choose additional effects. You can also import any GIF and use it for a specific action you perform in your browser, with just one click.
Opera GX can also display a GIF on your Razer keyboard whenever you get a notification from Discord, Twitch, Telegram, Facebook Messenger, Twitter, WhatsApp or Instagram.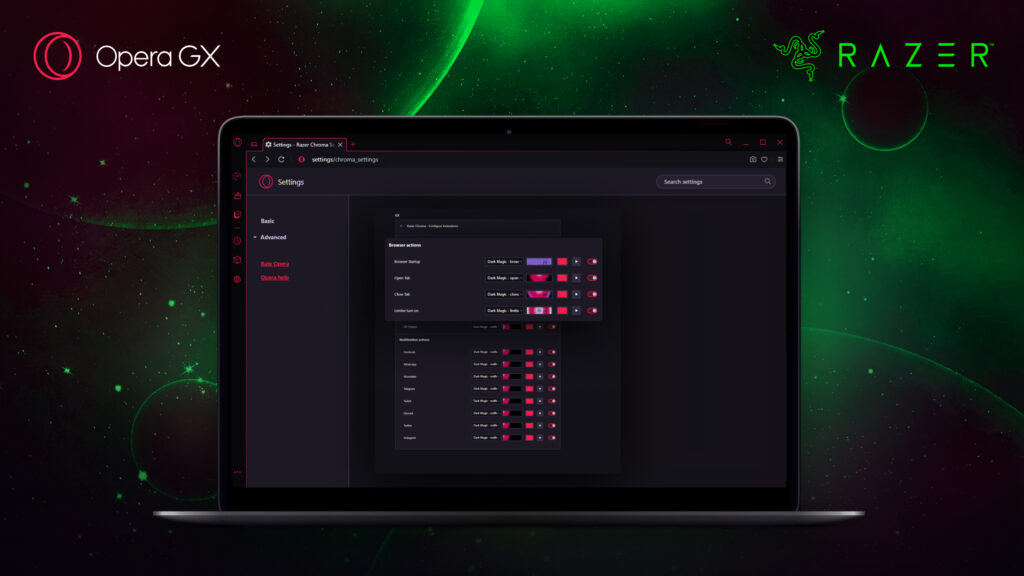 The dynamic Chroma RGB Lighting Effects are not displayed continuously, but rather when something occurs in the browser. In order to keep late night gaming or binge-watching sessions pleasant, they are dimmed in fullscreen mode.
Happy browsing!
Some info about Opera GX in case you missed it
Opera GX has recently grown to serve more than 5 million monthly active gamers, more than doubling the number from last year. Along with the countless customization options like color themes, sound effects, background music, and a gaming-inspired design, GX includes CPU, RAM and Network Bandwidth limiters that make the browser less resource-hungry and leave more of your computer's resources for gaming. GX also includes a Hot Tabs Killer feature, which lets you "kill" your most resource draining tabs and GX Cleaner to purge those old unwanted files. We also recently launched our own Discord server which now has more than 230,000 members.
---
---
---