Opera opens up the Internet with 3GB of free data for MTN users in South Africa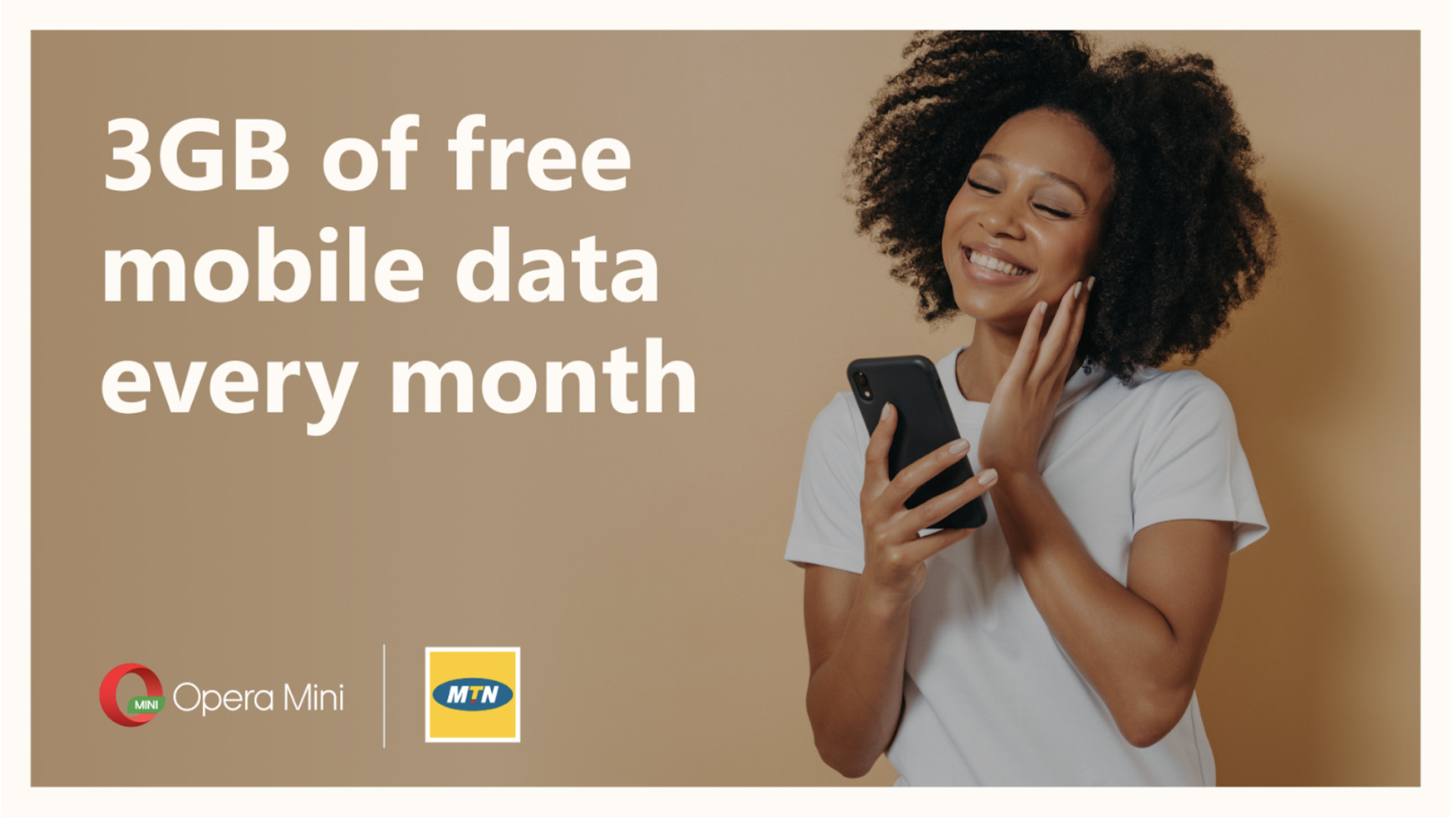 Hey readers!
We can't keep it any longer! Together with MTN, we are providing South Africans with 3GB of free data per month within Opera browsers to enable internet access for everyone. In July 2022 alone, we have already delivered a total of 17.7 petabytes of free data to 5.9 million users.
The Internet as a basic human right
The need to communicate and access the internet is fast becoming a basic human right in South Africa, according to the non-profit group Media Monitoring Africa. Data access is now considered nearly equal to utilities like water and electricity – an intrinsic and essential commodity that every home needs.
In fact, it's becoming such a high priority that the government has suggested giving free basic data to low-income users, similar to the stipends that it currently offers for water and electricity.
We agree with this view and believe that high-speed broadband should be readily and easily accessible to all South Africans – especially low-income earners and those on the unemployment line. Data has become the lifeblood of how we stay connected, transact, work and relax, and we believe 3GB of data per month will be of tremendous help to South Africans who are finding it difficult to manage all of their bills.
How to get started
The offer is effective immediately, with no sign-up required. If you are an MTN customer who wants to make use of this offer, you only need to have the Opera for Android or Opera Mini browser installed on your phone. If you are connected to the MTN network anywhere in South Africa, you will be able to browse for free, with 100MB of data allocated per day.
With 3GB of data per month, you are able to use Opera Browser's unique features to visit news sites, stay on top of social media, check browser-based emails or simply surf the web. The only restriction is on video content and file downloads, which are not covered by the free data and will attract normal data charges.
Do it all with Opera for Android and Opera Mini
The Opera browser on Android provides you with an unsurpassed browsing experience and includes a number of built-in features to enhance privacy and improve browsing. For example, you can have access to a native ad blocker, a tracker blocker, and a free VPN. These are included to reduce online tracking and to provide a cleaner, safer, and more private browsing experience for all.
There is also a built-in QR & Barcode scanner and an Opera Crypto Wallet to send, receive and pay with cryptocurrencies. The browser can be synced across devices, which means those working on Opera Browser for desktop can access all their bookmarks, Speed Dial shortcuts and open tabs on their smartphone. With more than a billion downloads on Google Play, the browser is trusted worldwide.
For those looking to save on data, the Opera Mini browser is the way to go. We have been developing advanced data-saving technology for years, and have implemented it in the fastest browser in the world for basic phones. Opera Mini offers an extreme data-saving mode which uses heavy-duty compression to pack pages, images and text down to as little as 10% of their original size, saving both time and data. Opera Mini users can also save pages to view offline or make use of ad-blocking to block advertisements and help sites load faster.
Uniquely, Opera Mini now offers the ability to chat directly in the browser using Hype. Hype is the first African-inspired chat service built into a mobile browser, allowing you to easily set up an account and chat with your friends on Hype using secure end-to-end encryption.
Free browsing for Africa
This is not the first time we are offering free browsing.
Since 2020, we have partnered with up to 10 leading carriers in South Africa and other Sub-Saharan African countries to bring as many people online as possible. These partnerships have allowed us to provide free data every day to those of you who use Opera Mini as your personal browser on your mobile phones, so you can browse, chat, access news articles, and stay informed about local events.
Every month, more than 1.8 million MTN customers use Opera mobile browsers. Since the free data effort started in August 2021, those using Opera and MTN in South Africa have saved an amazing 360 million MB of data – the equivalent of 30 million rand based on the current data costs of R85.00 per GB.
Together with telco partners, we have brought nearly 40 million people online across Sub-Saharan African countries. The Opera browsers have a strong foothold in Africa, with similar free data offers to Opera users available on 98% of Nigeria's cellular networks (Airtel, Globacom and MTN), and close to 100% of Kenya's networks (Airtel, Safaricom). We have found that with the availability of free data, users spend more time online and visit more sites.
---
---
---